Rooftop-project ved Dybbøl station på Vesterbro 2019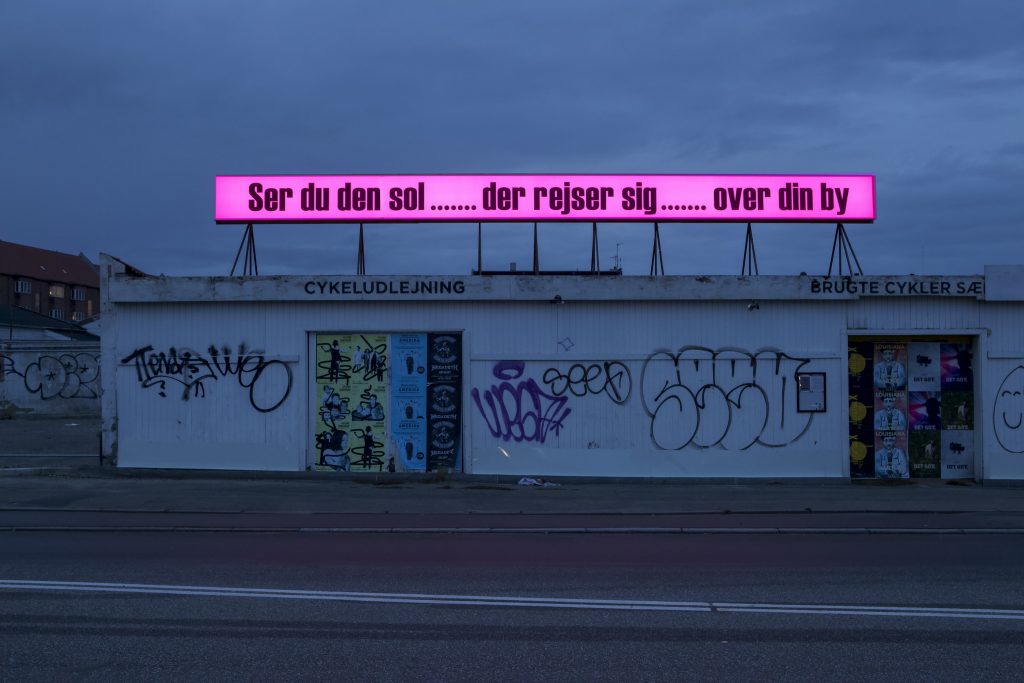 Kim Asburys værk til RoofTop står som en undertekst til himmelen. Det lange, slanke skilt præsenterer teksten Ser du den sol…….der rejser sig…….over din by. Lysskiltets format mimer den klassiske undertekst, der ofte akkompagnerer fremmedsproglige film. Frem for at ledsage et enkelt filmshot forholder Asburys undertekst sig i stedet til himmelen, der troner frem over RoofTop, og som altid vil være tilstede i beskuerens synsfelt i mødet med værket. Her indtager Asburys værk en position som referent til det omgivende rum. Ser du den sol…….der rejser sig…….over din by kan beskrive solens gang over himmelen, som en langsommelig film eller en konstant igangværende proces.
Alle tekster kan forstås som kulturelle og billedskabende referencerum, der altid agerer inden for kontekster og forståelser. Asburys værk er sat i sort tekst på en kraftig pink baggrund, der kan fortælle historier om poppede solopgange. Ligesom en tekst er billedskabende, kan den rene tekst i sine kompositioner, krøller og linjer også fungere som billede. Asburys anvendelse af punktummer understreger denne forestilling. Frem for at understøtte værkets tegn- og skriftbetydning fremstiller Asbury sin tekst som et motiv.
De referencerum, Asburys værk strækker sig ind i, er mangesidede. Solen er en hverdagslig konstant, en mytisk stjerne og i nogle tilfælde objekt for klimatiske frustrationer og problematikker. Byen er ikke bare byen men din by, et udsagn der udfolder forestillinger om ejerskab, tilhørsforhold og erindring. Vi navigerer ofte i byen ved hjælp af vores erindring, der som en fast horisontlinje ledsager os i dagligdagen. Horisonten og solen kan være et fikserpunkt for de togrejsendes blikke, ligesom Asburys værk til RoofTop er det.
Kim Asbury's work for RoofTop stands as a subtitle to the sky. The long, slim sign presents the text Do you see that Sun…….which rises…….over your city. The sign's format mimes the classical subtitle which often accompanies films in foreign languages. Instead of flanking a single film shot Asbury's subtitle relates to the sky which emerges over RoofTop and which will always be present in the viewer's vision when meeting the work. Here Asbury's work takes a position as a referent to the surrounding space. Do you see that Sun…….which rises…….over your city can describe the sun's route over the sky as a slow movie or a constant ongoing process.
Every text can be understood as a cultural or visual evocative room of references which always functions in contexts and understandings. Asbury's work is set in black text on a bright pink background which can tell stories of pop sunrises. Just like a text is visually evocative the clean text can function as an image with its compositions, curls and lines. Asbury's use of punctuation stresses this conception. Instead of highlighting the work's sign significance Asbury presents his text as a motive.
Those rooms of reference which Asbury's work stretches itself into are multiple sided. The Sun is an everyday constant, a mythical star and in some circumstances object for climate frustrations and problematics. The city is not just the city but your city, a statement which unfolds conceptions of ownership, belonging and remembrance. Often, we navigate in the city by memory which as a steady horizontal line accompanies us in our daily lives. The horizon and the Sun can be a point of fixation for train travellers' gazes just like Asbury's work for RoofTop can be one.